Cultivation of tomato during kharif season
CHALLENGE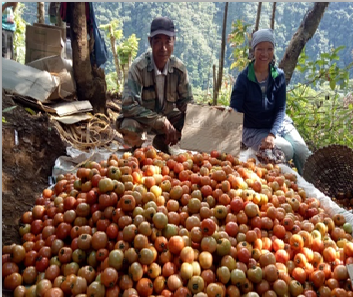 Mr. Lalrinkima (56 years) hailing from Chawngtlai village, Khawzawl District of Mizoram is one among the many farmers whose case study is worth exemplifying. His formal education up to class X has augmented his farming career to a prodigious extent too. He currently owns 3 acre of land and grow different kind of vegetables. He is supported by his family of four sons and three daughters. Though his earning is also centered on other casual opportunities like masonry works etc, he has ventured out to achieve more innovative work in the field of agriculture. Earlier he could not cultivate tomatoes due to lack of high-yielding and disease-resistant varieties in tomato, Inability to cultivate tomatoes in open fields in kharif season, and an Inadequate source of income to support the family.
INITIATIVE
To tackle the above problems, KVK, Champhai district in collaboration with ICAR-IIHR undertook to demonstrate tomato cultivation variety Arka Samrat in his field covering an area of one acre in kharif season in the year 2020. Keeping in view the urgent needs, KVK Champhai took the initiative of tomato cultivation and identified his problems through personal interviews and engaging various PRA tools. Consequently, the farmer was convinced about the potential of this particular variety wherein he agreed upon and took up cultivation in kharif season of 2020.
During the period of cultivation, KVK personnel also made numerous field visits, and organized field days and training for the neighboring farmers too. Plant protection chemicals were also provided as and when required based on the diagnostic visits made by KVK personnel, telephonic conversations, and Whatsapp® interactions.
RESULT :
Out of the many un-mentioned socio-economic impacts, marketing status, and farming situation impacts, a few observed parameters are consolidated and highlighted below. These parameters highlighted are scaled against the predominantly grown farmers' variety which was grown sparsely and unscientifically in the said location.
| | | | |
| --- | --- | --- | --- |
| S.N | Particulars | IIHR variety | Farmers practice |
| 1. | Variety Name | Arka Samrat | Samrudhi |
| 2. | Season | Kharif | Kharif |
| 3. | Area cultivated in acres | 1 | 1 |
| 4. | Average price obtained per kg | 60 | 50 |
| 5. | Yield obtained per acres | 55qtl | 25qtl |
| 6. | Gross cost of cultivation per acre (Rs./ac) | 50769.00 | 50000.00 |
| 7 | Net income per acre (Rs./ac) | 279231.00 | 75000.00 |
The average yield and Net income obtained from tomato variety Samrudhi was 25 qtl/acre and Rs 75,000 whereas the average yield of 55 qtl/ acre and Net income of Rs. 2, 79,231 was observed in Arka Samrat.
IMPACT
The efforts made by Mr. Lalrinkima were already visible after a few weeks of initiation and could sum up excellent results after his final harvest. He immediately gained popularity and his neighboring farmers also came to know about his produce and the quality of Arka Samrat. He motivated his neighboring farmers to adopt the same which now gradually spread to the entire village.
LESSON LEARNED
Besides the impact mentioned above, which was scaled against Samrudhi variety, it is worth mentioning that tomato cultivation gained popularity in the entire of village which is still spreading out to many adjoining villages also. The district administration, other line departments, and financial institutions have also come to know about this development and are willing to render possible help upon this unique achievement.
Contact Number: 6009552539
PHOTOS